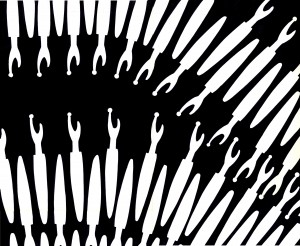 The Westercon 66 Masquerade will be held Saturday night, July 6, in the Atrium at the hotel. Phil and Kathe Gust are directing the masquerade.
There will also lots of costume-related items in our program.
---
The Masquerade is an event where some members of the convention present their costumes on stage for the entertainment of the other members in the audience. It is not a Masquerade Ball, and all members of the convention, whether in costume or not, are invited and encouraged to attend. "Fan" photography usually follows the Masquerade.
Details of interest to those planning to present costumes in the Masquerade are the following:
Full Blackout of the room and stage will not be available.
There will be a raised stage approx. 2 feet high. Width and depth have not yet been determined, but don't plan for more than 20 feet across.  We don't know how deep but planning on 12 feet wouldn't be a bad idea.  The room is rather narrow and wide.
We have been told there should be sound tech and may be additional light tech.  This means you can bring your own soundtrack.  We don't yet know what media or formats will be accepted by tech.  There will NOT be a microphone.  Do not plan to speak and be heard from the stage. You can record your dialog and lip synch it, or you can have the MC read while you perform.  The MC will definitely announce your costume name, your exhibition class and who made and is wearing the costume.
You may download the entry form (as a rich text file) in advance and return it by email to masquerade@westercon66.org
Rules
Every entrant must be a registered attendee of Westercon 66. If the maker and presenter of the costume are different people, both must be attending members.
At least one representative of your group must attend the Pre-Masquerade Meeting. Failure to attend the meeting (without making previous arrangements with the Masquerade Director) can result in your entry being taken out of the Masquerade. More information on this important meeting is at the end of this section.
Unmodified purchased or rented costumes may not be submitted for judging, with the following exception: costumes with over 50% modified purchased parts may ask for judging, as long as those purchased elements are thoroughly disclosed to all judges (so that they may be discounted where appropriate).

Practical application of the above rule: if you bought your costume and then altered it yourself to fit better, you are still ineligible for competition unless the alterations significantly changed the original garment structure. If all you are doing is adding tape, trim or paint to a garment and not altering the garment at all, you are ineligible to be judged.  If you made serious modifications to the items, you may be eligible to compete.  It will be the Masquerade Director's decision in that case. Check early to find out.

If your costume doesn't qualify for competition, we still welcome your presence on stage in the Exhibition category!
Each person may appear on stage once, in one costume. No dual entries.
You do not have to create a skit or presentation. A simple catwalk (walk on, pause, turn, pause, walk off) works too.
Presentations have strict time limits. Solo entrants are limited to one minute or less. Entries of two or more are limited to two minutes. If you have a REALLY LARGE group, contact the MasqueradeDirector before the Masquerade about the time you will need. Any entry going beyond the stated time limit can be disqualified by the judges.
Entrants under the age of 18 must have a parent or guardian sign the entry form.
This is a family show. Your costuming – and your skit – need to have a PG-13 rating or less. No costume is NO costume! Don't plan to appear on stark naked.
No materials or effects that will leave a mess on stage or in the green room are allowed. No materials or effects that may ruin another entrant's costume are allowed. Don't assume you can paint while you wait. You can't.
No live animals on stage, unless it's a service animal.
No pyrotechnics or any other open flames are allowed.
Weapons must be peace-bonded when not on stage.
If you plan on wielding your weapon or using martial arts leaps, kicks and/or punches as part of your presentation, you must advise the Masquerade Director exactly what you plan on doing on stage at the Pre-Masquerade meeting. Failure to do so can result in disqualification. This is for the safety of the entrant, the judges, the MC,  the Masquerade staff, the other entrants, and the audience.
The Pre-Masquerade Meeting will take place at a time to be determined. Each entry must be represented by at least one person, unless prior arrangements have been made with the Masquerade Director. At the meeting, you will turn in your entry forms (see note at the top of this page), along with any music or soundtrack and documentation. The Masquerade staff will review your paperwork with you, and will inform you about Green Room times and procedures. No paperwork or entries will be allowed after this meeting. Filing early is good too!
Why is this meeting mandatory? You will know where to be when for the Masquerade, and you will be assured that the Masquerade staff understands your requirements. It also benefits the Masquerade staff, because by meeting with you prior to the event, we will get a real sense of what you and everyone else will be doing. This will help in planning a running order for the show and how to best set up the Green Room.
Judging
Participating in the judging aspect of the Masquerade is purely voluntary. If you don't like competing, or if your costume doesn't actually qualify for competition, you are still welcome and encouraged to appear on stage as an Exhibition entry. Appearing on stage gives your outfit maximum exposure to the convention attendees with minimal amounts of work.
Everyone eligible for judging may participate in both workmanship and presentation judging. After all, if you don't enter, you won't win!
Presentation: Evaluating how your costume is presented on the stage.  This is not so much about the quality of your performance as how well you show off your costume.
Workmanship: This is the "up close" judging of a costumer's construction techniques. This occurs in the green room, before the show.
Participating in the competitive judging is voluntary. You do not have to submit to either form of judging you don't want to, in which case, select the "exhibition only" category on the entry form.
Workmanship: Our workmanship judges will get up close and personal with your costume and props in the Green Room prior to the actual start of the Masquerade. You will have the opportunity to show off details that you're particularly proud of, that won't be that visible on stage, as well as chat with the judge about overall construction tricks and techniques used to create your costume. You can skip Workmanship judging and still participate in Presentation judging.
Presentation: Our presentation judges will assess how you (or your model) and your costume appears on stage. Do you inhabit your character's body when you move on stage? Is your presentation (no matter whether it's a walk-through or a full-fledged skit) appropriate to the character and costume? The judges discuss these kinds of questions as they debate which entries deserve prizes.
If you have a re-creation costume (i.e. a costume that's a recreation of a costume from another source, like pretty much anything worn by characters on TV, film, gaming, in manga, or anime), you should bring along some form of documentation for the judges. This documentation doesn't have to be elaborate: a few photos of the original will suffice. The judges may not be familiar with the source of the costume. You want to give them an idea of how the original that inspired you looks and possibly a brief description of how the character behaves.  Turn your documentation in with your entry forms and your music/soundtrack at the Pre-Masquerade Meeting.  You may want to keep a duplicate copy, in case of accidents.
Masquerade Competition Classes Available
Entries are divided into classes based on the skill and experience of their members.
Novice: The Novice class exists to give Masquerade newcomers a chance to compete without being judged against more experienced entrants.  Entrants must have not won a major prize in any other Masquerade. (A "major prize" is an award that doesn't involve the words "Honorable Mention.") This category is ideal for first-time entrants, and for those with limited experience. Professional costumers, however, can't enter as a Novice, even if it's a first Masquerade for him/her. (A professional costumer is a person who made more than 50% of his/her living in the last year off of costuming.)
Open: Anyone who has won a major prize at a Masquerade, or a Novice who's feeling extremely confident. Professional costumers desiring to compete would enter in this class.
Young Fan: Entrants no older than 16 who participated in the design and/or construction of their costumes enter here. Children wearing costumes designed and made for them by adults should enter in the Novice or Open categories.
Exhibition: This category is for those who either don't want to be included in the judged categories or have a costume that doesn't qualify for competition, but still want the chance to show off their costume or presentation in front of a large audience.