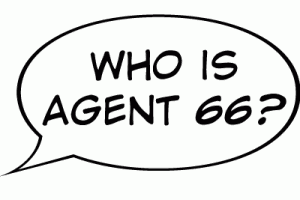 Have you joined the search for Agent 66? Meet us while we're out and about and we'll document your efforts.
Or send us your snaps (to agent66@westercon66.org) and we'll add them to the gallery.
Andrew Trembley, Westercon 66 Co-Chair

Kevin Roche, Co-chair

Kevin Roche

Gay Haldeman, nicest gal around…

Joe Haldeman, author, singer, bon vivant!

Sheila Williams

Howard Tayler, Mercenary

Randi… just Randi…

Randi & Kevin. She knows what's good for him.

Norman Cates, International Elf of Mystery

Leanne Verlhust

Warren Buff, Sir Walter "What a big ship you have" Raleigh impersonator.

Warren Buff and Crystal Huff. No Relation.

Jay Lake

Jay Lake. Yes. Yes I am.

Jay Lake, cover blown.

Tom Veal. SMOF extraordinaire.

Leanne Verlhust

Laura Domitz, Lonestarcon 3 co-chair

Laura Domitz

Kevin Roche

Christine Doyle, W66 Program head

Christine Doyle

Charlie Jane Anders, Writer with Sign (and Drinks)

Cecilia Tan

Seth Breidbart

Eugene Heller

Michael Lee

Kevin Standlee, Very Serious Fan

No, Really…

Madame Nancy Hay

Phil Foglio

Vincent Docherty

The Reverend Doctor Christopher J Garcia

It's the beard that lends credibility.

Don Eastlake

M. Todd Gallowglass. Not Nathan Fillion.

Kyell Gold

Catherine Lundoff

A Dragon

Sharon Bass

Walter Jon Williams, author and Westercon 59 Guest of Honor!

Bryan C.E. Buhl

The smoftacular Ben Yalow

ORLY? NORLY!

Patty Wells, Renovation (Worldcon 2011) Chair

Annie Belet

Michelle Pincus

Tara O'Shea, the chick who digs Time Lords.

The finally Hugo Award Winning Paul Cornell

David L. Clements

Gary Erlich, playing the ocarina

Malcom H

Char & Randy Mac Kay

Bill Laubenheimer

Lynn Gold

Deb Kosiba, Hugo base designer

Carole Parker

Randy Smith

He's an agent and a priest!

John "The Rock" (at least that's what Garcia says) Coxon!

España Sheriff

Duncan MacGregor

Dean Gahlon

Lawrence Schoen

Martin

Chicon 7 Fan Guest of Honor, Peggy Rae Sapienza (of "Peggy Rae's House" and "Peggy Rae's Lawn" fame)

Kim Kofmel!

Bill Taylor

Diane Lacey (with a Murray Tie)

Liz

Geri Sullivan

James Bacon and Geri Sullivan

James Bacon and Geri Sullivan

Chuck Serface, BASFAn

James Bacon

Alissa Potter (not really Potter)

Tom Becker

Aurora Celeste

Charlie Stross

Only the Mummy Knows

"Ranger" Craig Glassner. Your federal tax dollars at work.

W for Westercon

The oh, so serious, Jennifer Brozek

Steve Jackson. That one.

Westercon 66 program head Christine Doyle

Chris Iles

Comrade Lucky, and a dubious officer…

A racoon and a wolf…

The ears are thinking…

Long ears are long.

She wants to know.

The headphones mean it's an official inquiry

Neonbunny. In case that wasn't obvious.

Anne Macko

Doctor Who costume designer June Hudson

Ali Pearce and cube

Fan Guest of Honor Chris Burgess

The hat means it's an official inquiry.

Scott Kavaky

Chicago TARDIS' own Jennifer Adams Kelley

Jennifer really wants an answer.

The lovely and talented Jan Fennick

Fan Guest of Honor Warren Frey

Kevin Carbonneau, Alpha Nerd

The Two Minute Timelord himself, Chip!

Nancy Allegria and a mystery man.

Neve Macintosh, in much less makeup than you're used to seeing her in.

Neve confuses a passerby.

Neve pulls this look off better than Charlie Stross.

Fan Guest of Honor Steven Schapansky

Steven looks so… something.

In the calm and quiet FogCon hospitality suite, people still want to know.

Delia Sherman, and a man of mystery.

Author and editor Grania Davis

FogCon's Author Guest of Honor, Susan Matthews

Eric and Beth. Not in an elevator.

And now with less color!